Attention deficit hyperactivity disorder (ADHD) is a development disorder which cannot be cured. There are many causes for ADHD, including genetic heritage, mother drinking alcohol or smoking during pregnancy, traumas, toxins, food additives, excessive watching of TV during an early age, and many more.
An alternative treatment method, which has shown very promising results, is neurofeedback. In this method, sensors are attached to the scalp of the patient, and the electrical activity is monitored to see brain activity in different bands.
Space Sheep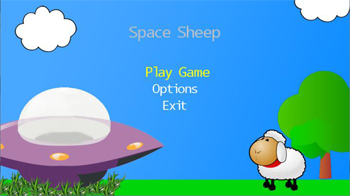 In a course on context-aware mobile applications, I have tried creating game that addresses this problem.
The player controls a sheep in a UFO that flies up into space. On its way up, the sheep has to gather batteries to power its UFO. The player's role is to control the UFO to either left or right side and by only using the mind.
To be able to control the UFO, the player wears a neuroheadset, Emotiv EPOC, which is equipped with fourteen sensors for measuring EEG activity.
Low-Cost Neurofeedback Game for ADHD Treatment