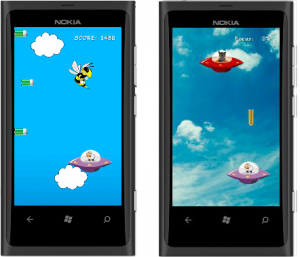 In a previous project, I developed a game where the player wears a neuroheadset, Emotiv EPOC, which is equipped with fourteen sensors for measuring EEG activity.
The game was fully controlled using only brain activity. The downside was, that the user would grow tired fast and the game was not playable for more than half a minute.
In this project, the game has been extended to have more features and ported to a Windows Phone 7. The movement speed is still controlled through concentration, but movements to left and right are now controlled using the accelerometer. Additionally, we have added bonus maps in which the goal is to relax.
In the bonus maps, the sheep needs shoot a wolf before it gets shot. The only way the sheep can shoot however, is if the player is relaxed. To tell the player whether he/she is relaxed or tense, we have added a meter. When player relaxes, the meter goes up, and once it reaches 100%, the sheep shoots.
Low-Cost Neurofeedback Game for ADHD Treatment using a smartphone device