The AVI SSVEP Dataset, is a free dataset (for non-commercial use) containing EEG measurements from healthy subjects being exposed to flickering targets in order to trigger SSVEP responses. The dataset was produced as a part of a master thesis. All data were recorded using three electrodes (Oz, Fpz, Pz) during winter 2012-2013. The purpose of this dataset is to help non- commercial projects get started with SSVEP responses using real data.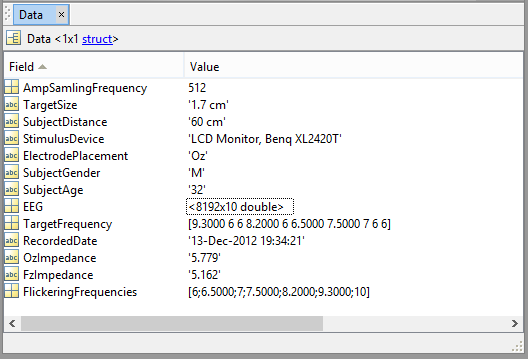 When working with e.g. brain-computer interfaces, there are many things can that can go wrong. Electrodes may not be placed correctly, the subject does for some reason not respond to stimulation, external noise can disturb the signal, the stimulus application may not work as intended or the signal processing algorithm may just not be good enough. Using real data, the developer will know what SSVEP responses are supposed to look like and be able to develop SSVEP detection algorithms before testing on subjects.
Figure 1 shows the setup used for all experiments. The signal electrode is placed at Oz while reference is at Fz and ground at Fpz using the standard 10-20 system for electrode placement. Reference and ground can be set to other positions such as earlobes and mastoids. The right figure shows the hardware setup, where the LCD monitor, BenQ XL2420T, has a refresh rate of 120 Hz. The only processing applied on the data is an analog notch filter at the mains frequency (50Hz).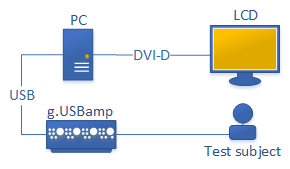 Figure 1: Experimental setup
The data are stored as .MAT files, typically opened using Matlab or Octave. Alternatively, you can download the raw EEG and target frequencies are provided in .DAT files as comma-separated values, which can be opened by any text editor. The difference between the .MAT and the .CSV files are that .MAT files contain more meta-data about the setup.

AVI SSVEP Dataset, MAT Files

AVI SSVEP Dataset, DAT Files